We're midway through our first summer here, as the new owners of Odessa By The Sea Vacation Homes and Cottages (formerly White Lamb Cottages), and we are having a great time. We've had wonderful guests, beautiful weather, and are receiving lots of positive feedback.
White Lamb Cottages spent the last 18 years building an excellent reputation with visitors to Old Orchard Beach. In fact, many come to the area specifically hoping to stay in one of the now famous, pink and white cottages.
One of our goals in purchasing the property, beyond saving it from developers, was maintaining this positive reputation. Our extensive experience with high end rentals in both Massachusetts and Maine prepared us well. That doesn't mean there weren't challenges, however!
For one thing, new owners bring changes. Changes that don't always go over so well with everyone. The world, too, has spent the last couple of years throwing curve balls at all of us. We've all faced conditions and restrictions that have made things, especially hospitality and travel, a little challenging.
Consequently, we are more than gratified by all the positive feedback Odessa By The Sea has received. Nothing fills us with more pride than knowing you enjoyed your stay at our Old Orchard Beach vacation rentals. This is true of constructive criticisms, as well. We work hard to maintain and grow Odessa By The Sea and your feedback is an important part of that process. Thank you so much!
Recent Odessa By The Sea Reviews
"The cabin was adorable, comfortable, and sparkling clean when we arrived. The owner and staff are friendly and committed to ensuring everything is going well for their guests. From the front door you are on the beach in two minutes (or less), without even crossing the street. Quiet area, but you can be on the peer in a 15 minute walk. We hope to stay here for many years to come!"
Sara, Stowe, VT – July 2022
"This visit was the second for my wife and me to this magnificent property. We brought adult children and grandchildren for this visit, and they thoroughly enjoyed their stay. The home is very well designed for a large group. The kitchen is large and beautifully equipped to meet all needs. The first floor is spacious, with multiple areas for people to congregate. The second floor has a large central, beautifully furnished meeting area with nicely furnished bedrooms. The third floor has a similar sizeable main meeting area with one bedroom off to 1 side. This is my favorite floor and the balcony on both the third and second floors provides a beautiful view of the ocean at Old Orchard Beach. A sizeable well-maintained backyard is fenced, with a gas grill, gas fire pit, and a heated hot tub. The basement has lots of things for the beach for all ages, as well as games and toys for children. The property manager is always available and is very friendly, and his instructions and guidance is crystal-clear. I highly recommend anyone considering this part of Maine reserve this property for their visit. We hope to return next year!"
Francis – July 2022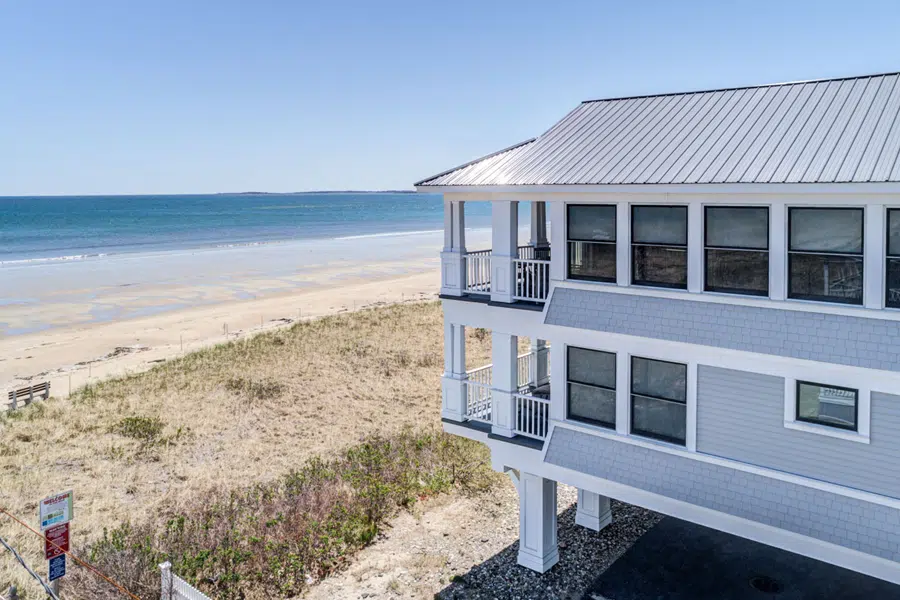 "EXCEPTIONALLY CLEAN, PERFECT LOCATION, and WONDERFUL SERVICE! I cannot say enough positive things about Jason's cottage (No. 6) that we rented over the 4th of July weekend. Adorable inside and out. When we initially walked in, we noticed right away how clean it was — it smelled fresh and everything was spotless and very tidy. The kitchen had an ample fridge, 4-seater table, cute little cooktop, sink, dishes, flatware (including metal lobster crackers!) drinking glasses, wine glasses, coffee mugs, a coffee maker (with coffee!) and a toaster. It was nicely decorated throughout with "old-time" charm, and we felt right at home. The bathroom had a roomy layout with modern fixtures and storage for toiletries; it had a built-in hairdryer, soft/thick white towels (that you'd expect at a luxury hotel!) and the stall shower was large-sized with a door and little shelves inside for your shower items — plus great water pressure and a pop-out hand-held shower head accessory. The bedroom was extra large with a full dresser/mirror, and the air conditioner in there cooled the entire place very well — especially with the help of the ceiling fan in the living room. The bed was comfy with four nice pillows, fresh white linens, and bed cover. There were extra blankets and another pillow in the dresser — again, all very clean and fresh smelling. The futon couch in the living room was big and comfortable for lounging and watching tv. There was also a nice outdoor table with four chairs, an umbrella, and a charcoal grill. We were surrounded by lovely flowers all around, and the grounds were impeccably maintained. It was peaceful and quiet the whole time we were there — plus, being steps away from Ocean Park Beach was the BEST. It's far enough away from the crowds of OOB, though we easily walked there for food and fireworks. I've traveled all over the world, and I'm fairly picky about lodging, cleanliness, and service. I was THOROUGHLY IMPRESSED with everything here. Jami (housekeeping) was quick to respond to a request I had, and Jason was awesome with communication before, during, and after our stay. Without a doubt, I give this FIVE STARS. You won't be disappointed, but rather DELIGHTED with a stay here! Highly recommend. (Thank you, Jason!)"
Shelley, Saco, ME – July 2022
"Our stay at Jason's Place was perfect. We traveled with 2 one year olds, a 2 year old … 2 five year olds .. 8 yr old and Parents & Grandpa & Grandma. Tons of room … I was almost concerned it was too big but we settled in easily and the kitchen ( amazing) & family room overlooking the water became the heart of the home. We all had room to breathe & yet gather which we did starting at sunrise! The master bedroom is luxurious with its own porch. My husband & I even fell asleep under a comforter listening to the waves. The teeny tiny walk down the path is a game changer with wee ones and one very pregnant mom! Because it's so close we spent hours back n forth exploring & playing in the . Lots of great restaurants very close by too and my family ate lobster every day! We loved our stay, such a special place. A Blessing."
Robin – June 2022
"Fantastic house – steps from the beach. Wonderful flow to the house with 5 bedrooms and advertised exactly what it is. Spacious kitchen & everything worked . It's close to the amusement park & pier ( 6/10 of a mile – a pleasant walk) . The neighbors were friendly and it's a quaint/ Relaxing home. We will be back Only wish was a noon checkout as 10 was too early!"
Mike – June 2022
More To Come
We're just getting started here at Odessa By The Sea, with lots of ideas and plans for the future. All the constructive, positive feedback we're receiving only serves to further motivate us. Thanks again to all those who have stayed with us. We are so excited for all the new and returning faces we'll see in the days to come.
So go on, come join in the fun at Old Orchard Beach. Our warm and cozy Odessa By The Sea vacation rentals are waiting for you!