Maine Beach Wedding & Event Venue
Seven miles of white sand beaches make for spectacular Maine Beach Wedding backdrops. Our vacation rentals are within steps of the ocean, making the homes perfectly situated for getting ready, overnight accommodation, and receptions. Walk a few steps to the beach for your ceremony, and return to the homes for gathering with friends and family. Our venues are also ideal for group gatherings including corporate retreats, family reunions, health and wellness retreats, and more. The properties are certainly large enough for two families to share as well! When rented together, the Cottages, Odessa and Odena sleep up to 65 guests! Individually they sleep 2-24, making Odessa by the Sea Vacation Rentals & Cottages easy to customize for your specific group needs. Frequently we will host a group of guests in the fall or winter time for a long weekend, only to find one or two of these guests booking a weeks' vacation with their own family in the summertime, a testament to the addictive nature of the surroundings, they keep guests coming back time and time again and are perfect for your special gathering.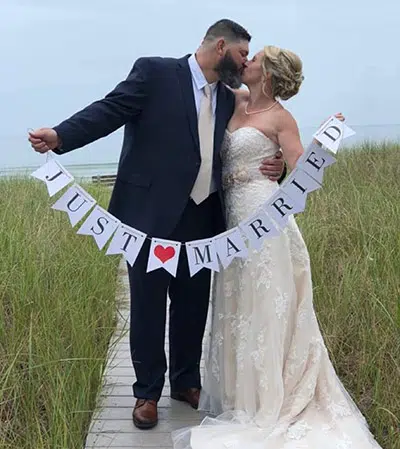 Weddings
Maine Beach Weddings offer a sensible yet elegant solution to the expenses and headaches normally associated with a traditional wedding. Typically, a beach wedding is easier to plan, more intimate in size, and a lot more fun for everyone.
Follow the permitting process outlined below for beach weddings, then bring your own officiant and you're all set for a fun, affordable Old Orchard Beach wedding! The town of Old Orchard has 3 permits for events available, you'll also need a marriage license. Use the info below to learn more:
Group Retreats
A great retreat has the power to transform no matter if it's a company retreat to discuss products and processes, a family reunion, or a retreat to transform the mind, body and spirit. Each of our vacation rentals are located near the beach and town – making beach walks, views, and things to do close at hand.
Small groups up to 24 will enjoy the Morrison House or Odena House. Larger groups can rent the Odena, Odessa, and Cottages together for a total of 65 guests, all within 30 yards of each other.
We're happy to discuss the best options with you depending on your group's needs. Give us a call to discuss at (207) 934-1081 or email info@odessabythesea.com
What our Guests are Saying:
"I hosted a women's wellness retreat at one of the properties and it was PERFECT! We were 9 women in total – and easily and comfortably could have fit quite a few more. The kitchen is amazing, there is so much space. Each room had it's purpose. There are so many amenities including tons of kitchen gadgets from waffle maker to kitchen aid mixer – anything you might possibly need. Communicating with the property manager / owner was so easy – they were both very responsive to questions I had. We'll be back without a doubt!"